Bulgarian Eye Candy of the Day: Stanislav Ianevski
If you've seen (or saw posters of)
Harry Potter and the Goblet of Fire
, then you must have seen the handsome cutie pie "Viktor Krum."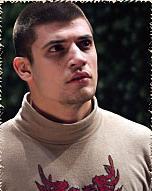 Oh my gosh,
he's so cute
!!!
Oh Yes baby, I like 'em aggressive!!!
Heck. Even saying the name
Stanislav Ianevski
turns me on.
But he's only 20 years old.
................. F**k It, who cares. I have no problem pulling off a
Demi Moore
on him.